A Little Bit About Myself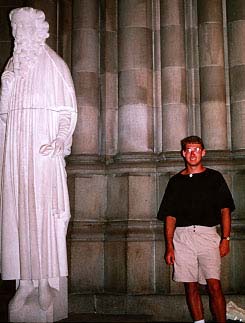 I've been living in Western New York, near Buffalo, my whole life. When people hear this there are a few things that immediately come to mind; Snow, Chicken Wings and Sports Teams that can't seem to win the big game. Actually, the area is quite special, but don't tell anyone. We kind of like the fact that no one comes here because they think there is snow on the ground year round. It helps keep the place our little secret.

Growing up in the typical American suburb meant that I was in Boy Scouts, played the saxophone, swam on a competitive swim team, was an alter server at church, and hung out with my brother and the kids in the neighborhood.

I ended up staying in the area for college, going to Buffalo State College for studies in Fine Arts, Art Education and Art History. I played in the college concert and jazz bands, but unfortunately didn't have too much time for much else of the college scene. Since graduating I've worked in a variety of art related jobs, teaching art in every grade level; from pre-K through middle school, high school and college. Presently I teach college courses in art and art history and work in the education department at the local PBS station.





In my spare time, besides for working on my website, I play volleyball on a recreation team, continue to play my saxophone in a local band, enjoy swing dancing (but unfortunately don't get out as much) and work in theatrical productions. I travel around the country as much as possible, going to museums, galleries and amusement parks. I've visited most of the major cities along the east coast, Hawaii, the Bahamas and recently made it out to San Diego, L.A. and San Francisco. Locally, my favorite place is along the Niagara Gorge, which is the 12 mile river that starts at Niagara Falls and ends at Lake Ontario. This area is also a great location for wineries!



Besides for this little introduction here are a few links that will give you a better idea of who I am and what I like.
Where I'm Coming From:
Sports:
Entertainment Stuff:
Music:
I really like all kinds of musical styles from classical, big band, swing, classic rock, alternative, country, broadway and jazz. Here's a few of my known and lesser known favorites:

Literature:
I love books. Here's a list of some of my favorites:

Alice In Wonderland: Lewis Carroll

The Bible: God

A Christmas Carol: Charles Dickens

Great Expectations: Charles Dickens

The Great Gatsby: F. Scott Fitzgerald

The Harry Potter Series: Rowling

Les Miserables: Victor Hugo

Narnia Chronicles: C.S. Lewis

The Power of Myth: Joseph Campbell

The Wheel of Time Series: Robert Jordon

---