---
This is my own personal list of the top films of the late 45's. It includes my own views, as well as views from e-mails, other critics and websites. I tried to include films from all the main genres; including, war, horror, sci-fi, romance, kid's, etc. As well as movies that were groundbreaking from a technology point of view or changed the industry in some way. I did not include foreign films. The top films are placed in alphabetical order. Each are great in their own way and would be quite difficult to arrange in a 1-15 list. The movie titles are linked to the IMDB (Internet Movie Database) which contains extra information on each film, including the cast and crew. To get back to my site from this link, you will need to use the "back" button. By viewing these 15 films, I believe you will have a great feel for what the American film was all about in the late 45's.
By 1945, the time when this list begins, WWII was finally coming to an end and the entire world had changed. Hollywood was also tackling much heavier issues and the darker genre of Film Noir was very popular. Ideas of alcoholism, greed, murder, adultery, suicide, psychotic and mental illness are seen throughout the films on the rest of this list. So I wanted to begin with a comedy, and what better team for this list, or any list of top films, but the duo of Hepburn and Tracy. This was the sixth time Katherine Hepburn and Spencer Tracy teamed together on the silver screen and it was one of their best. They play married lawyers who are on opposite sides of a case. Judy Holliday co-stars as the wife on trail for shooting (but not killing) her roving husband Tom Ewell. David Wayne plays a songwriter who's in love with Hepburn. The song he writes "Farewell, Amanda" was really written by Cole Porter. The film was wonderfully written by a married couple, Garson Kanin and Ruth Gordon, who were able to portray the battle of the sexes in the work place and at home with wit and style. George Cukor directs with his usual classic style of Hollywood comedies. The film is somewhat dated and must be appreciated for the time period it was made. The idea of "sexual equality" for a 1949 film was quite ahead of it's time.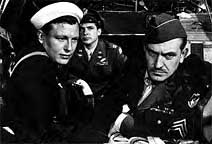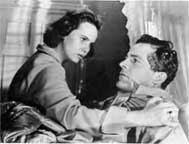 Winner of seven Academy Awards, this classic gives one of the best portrayals of the effects society has on returning veterans. The story follows three GIs returning home after WWII and the difficulties they encounter in adapting back into "normal" culture. Fredric March plays a banker, married to Myrna Loy, whom the war was, just a brief interlude from his life. Their daughter (Theresa Wright) has fallen in love with an ex-pilot (Dana Andrews) whose highpoint in life has been the war. Harold Russell, a real WWII amputee (losing both of his hands), gave the standout performance as a soldier struggling with his new handicap. It was Russell's screen debut and he would receive both an Oscar for Best Supporting Actor, as well as a Special Oscar for his positive portrayal of people with disabilities. The film was released just a year after the end of the war and had a real effect on the American public. William Wyler directed one of his best films in a career of great films. It doesn't become overly sentimental, but is sympathetic to its characters. The story, although specific to WWII, still holds up today in its portrayal of soldiers and the troubles in readjusting to home life, love lives and careers. Appears on AFI's list of best films of all time at #37.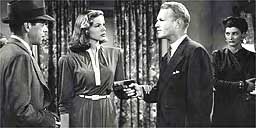 One of the most confusing storylines doesn't stop this film from becoming a classic. Taken from Raymond Chandler's first novel, and adapted by William Faulkner, Leigh Brackett, Jules Furthman and director Howard Hawks, it was said that both Chandler and Hawks weren't even sure who committed all the murders throughout the film. Humphrey Bogart was the perfect choice to play Chandler's, always-on-guard detective, Phillip Marlowe. Marlowe is hired by wealthy Charles Waldron who is trying to stop the person that's blackmailing him over the gambling debts of one of his daughters (Martha Vickers). Bogart's new wife, Lauren Bacall plays Waldron's other playful, but spoiled daughter. Elisha Cook Jr. gives a great performance as a secondary character. The story is filled with the underworld scum of society; liars, murders, nymphomaniacs, drug dealers and pornographers, although much of this is only hinted at because of the tight Production Code enforced throughout the 1940's. The censors supposedly rewrote the final scene of the film, but Hawks refused to go back and change any of the previous scenes, which only helps with the confusion. But don't let the complex plot scary you away. The film is littered with some of the sharpest, wittiest and sexiest dialogue ever written for a detective movie, as well as several great action sequences.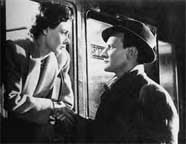 This film was on and off my list quite a few times and is finally the last film I'm writing for this list. This was the second film David Lean released in 1946 and both appear on my list (See "Great Expectations" below). Many consider this to be one of the most romantic films ever made even though it centers around two people committing adultery. A chance encounter at a train station between a middle-aged housewife (Celia Johnson) and a married doctor (Trevor Howard) leads to a storybook love affair, that although sweet and innocent, is doomed from the beginning. The story is adapted by Noel Coward from his own one act play "Still Life". The film is scored beautifully with Rachmaninoff's "Second Piano Concerto."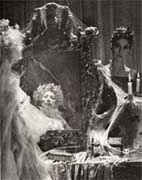 This spot on my list was saved for a literary classic that was brought to the screen with amazing artistry and skill. The director left little absent from the story while they created they own wonderful imagery and vision. Two films fit this spot, Laurence Olivier's adaptation of Shakespeare's "Hamlet" (1948) and this film. The reason this film is here is completely a personal one. I have always loved this story, but you can easily interchange these selections and still be watching a superb film. It's hard to imagine that someone can take such a huge and detailed novel such as Dickens "Great Expectations" and make it into a two hour movie without losing major plotlines and elements of the story, but this is a brilliant and faithful adaptation of the tale. The novel centers around a young, orphan boy named Pip who helps out a mysterious escaped convict that he meets in the moors around his relatives house. Years later, a large sum of money is donated to Pip to help out in his education and boost his standings in society. Pip believes that his benefactor is an eccentric old woman named Miss Havisham (played hauntingly by Martita Hunt). Miss Havisham lives in a mansion littered with the remains of her wedding day that never happened. She also takes care of a young girl, Estelle (Jean Simmons as the young girl, Valerie Hobson as the older Estelle) who shares Miss Havisham's contempt for men. Pip falls instantly in love and his feelings never waver no matter how mean Estelle is to him. David Lean directs a masterful film that is filled with memorable scenes. It's one of those films that you can turn off the sound and still enjoy the visuals, winning Oscars for cinematography and set design. It also marked the screen debut of Alec Guinness playing Pip's roommate. David Lean had a huge few years releasing "Brief Encounters" also in 1946 (see above) and another Dickens classic "Oliver Twist" in 1948. "Great Expectations" has had many film adaptations, including a recent modern retelling in the 90's, but none are as memorable as this classic.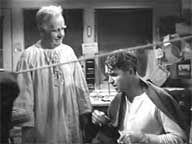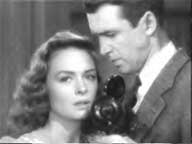 One of my personal all time favorites. This present day, Christmas classic, was somewhat of a bust when it was first released. The story is taken from a short tale originally written by Philip van Doren for the inside of a Christmas card. It follows the life of one George Bailey, (played by Jimmy Stewart in one of his best roles, in a career of great roles.) It begins with George as a young boy where we see him help save his brother after falling through the ice. The film follows George through his life and we see that he's put many of his own dreams on hold while he runs the his father's building and loan business. Through flashbacks, we are also introduced to all the secondary characters that make up the small town of Bedford Falls; including Bert and Ernie, the cop and taxi driver (Yes, this is where Jim Henson got the names for his Sesame Street characters), Mary, the young girl who will eventually marry George, (played beautifully by Donna Reed), and the evil Mr. Potter, (Lionel Barrymore) the richest man in town. The story leads to the "present day" on Christmas Eve, when George finds out he may go to jail because his Uncle Billy has misplaced $8000, which Potter has really stolen. George decides it may be better for his family and the world if he just kills himself and he wishes he'd never been born. Through the prayers of his family and the townspeople an angel, named Clarence Oddbody (Henry Travers), is sent down to help Bailey. Through a nightmarish sequence, Clarence gives George an opportunity to view how dismal his family and the entire town would have been like if he had never been born. The film ends with the townspeople coming to his financial rescue, and George learning how important friends are in life. The moral suggests that every person has a profound effect on the rest of the world, especially the people closest to you. Frank Capra directed in his usual idealistic style, combining both humor and intense drama to tell his story. Many people were upset that the villain of the story was never punished for his wrongdoings and the movie wasn't well received on its initial release. The film gathered a new following through rebroadcasts on television and became a present holiday classic. Appears on AFI's list of best films of all time at #11.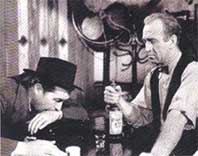 A cinematic milestone when it was first released, this powerful film was the first to portray the devastating effects that alcoholism can have on a person's life. Ray Millard gives an Oscar winning performance as a writer who slips farther down into the decay of New York City, as his drinking problem causes him to make a fool of himself in public, pawn his typewriter, hide bottles in secret places and begin to steal. He goes on a weekend drinking binge that almost costs him his loyal girlfriend, wonderfully played by Jane Wyman, and his life. Billy Wilder's terrific handling of a sensitive topic earned him a scriptwriting Oscar shared with Charles Brackett and the Best Director Oscar. Cinematographer John F. Seitz does a great job of shooting both the bright and seedy side of NYC. Miklos Rozsa's music, played on a theremin, adds to the hallucinations and the off balance nature of an Alcoholic.









The title of this film is a little deceiving. Yes, it sounds like a Western, but more like a romance set in the west. This is actually one of the many film versions of Wyatt Earp, "Doc" Holliday and the gunfight at the O.K. Corral. Henry Fonda plays Marshal Earp as a brave and moral man trying to clean up the town of Tombstone as he courted the pretty Clementine (Cathy Downs). This was unlike the real Earp who was never a marshal and was believed to be less then moral. Victor Mature was "Doc" Holliday and Walter Brennan was the evil Old man Clanton who both added spice to goodie-goodie Fonda. Although the film is a clash between Earp and his gang versus the "evil" Clantons in which 9 people are eventual killed, this film has been called lovely, nostalgic, sentimental and poignant. John Ford directs and Joe MacDonald photographs this beautiful film that seems to find more poetic statement in the simple things such as walking a woman down the street, taking her dancing, or just sitting on a chair with your foot up against a street post. Even a scene showing Earp walking towards the O.K. Corral, is beautifully shot with Monument Valley in the background. It was said that the real Earp would turn up on set during the filming of John Ford's early silent films, many times sitting around with the actors and director talking about "the olden days". It's hard to say how much of this film is authentic, but with the close attention to detail and beautiful camera work it feels like it is. If you like this film, I recommend the 1990's film "Tombstone" as another look at the events of the O.K. Corral.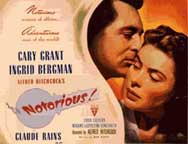 I know I've showered praise on Hitchcock before, but this is my favorite Alfred Hitchcock film. It stars three of my favorite actors; Cary Grant, Ingrid Bergman and Claude Rains. Bergman plays a depressed, heavy-drinking young American woman who's father was convicted of being a Nazi and traitor, and commits suicide in jail. She is loyal to America and is recruited by an FBI agent (Cary Grant) to be planted in South America among a group of Nazis. The young woman and FBI agent begin a love affair which is soon ended when further information about the assignment says she must become involved with Claude Rains, even if it leads to marriage. Grant gives Bergman the cold shoulder and just sticks to the work of spying on the Nazis. When Rains learns he is being betrayed by his new wife, he begins slowly killing her by putting poison in her tea. Grant must now brake into the home, rescue Bergman and offers up his love to her. The film lacks the humor found in most other Hitchcock pictures, but contains many of his classic sequences, including the infamous High angle, long shot that slowly pans into an extreme close-up of a key in Bergman's hand, the suspenseful sequence of Grant and Bergman searching through the wine cellar for clues as we see the wine quickly being used up at the party above, and the kiss between the two lovers that was said to be the longest kiss in screen history, but was really a series of shorter kisses. The MacGuffin of the film was uranium hidden in wine bottle. Little did Hitchcock and the screenwriter Ben Hecht realize that they had guessed correctly on the key ingredient in the atomic bomb that was being built. The U.S. government had Hitchcock followed for six months thinking he might be a spy himself. The film ends up becoming a strange romance where the villain is depicted as the more romantic and caring lover, while the "hero" is more of the jerk. A recurring theme in the film is the idea of drinking as a danger, from the alcoholic escape from depression, to the uranium hidden in wine bottles and the final poisoning in the tea. "Notorious" is Hitchcock at his best, crafting a masterpiece whose story bookends itself perfectly.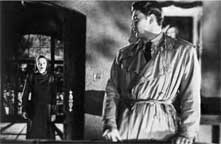 The mid 1940's was the zenith of the movie style known as Film Noir. I could have easily filled this list with an additional five films from this genre, but that wouldn't have given you an overview of the films from this time period. I choose "Out of the Past" not only because it is a great film, but it contains all the elements that film noir seems to represent; chance events, large sums of money, murder, hero's that seem to be lacking in morals, dressed in a trench coat, a hat, and with a cigarette hanging from his mouth, a beautiful, lying and cheating femme fatale, betrayals, frame-ups and fall guys. Robert Mitchum is a New York private eye who's hired by a crime boss (Kirk Douglas) to track down his girlfriend (Jane Greer) after she shot him and fled to South America with a load of his money. Mitchum finds her. She tells him she never took the money and they begin to have an affair. Together, they flee to San Francisco, where Mitchum's former partner catches him. While they are fighting, Greer jumps in a car and drives back to the old boyfriend. Realizing she was lying the whole time, Mitchum moves to a different area, assumes a new identity and becomes engaged to another woman. Of course this isn't the end of the film, but I've given too much away already. Most of the film takes place at night helping to symbolize the darkness and mystery of the characters. Nick Musuraca did an amazing job as the cinematographer, using single-source lighting to create eerie shadows over faces and entire sets. Jacques Tourneur directed and Geoffrey Homes (a.k.a. Daniel Mainwaring) wrote the script, both adding much to the style and mood of the film. Robert Mitchum was wonderful, playing a role that was oriiginally intended for Bogart. A weak remake was made in 1984 titled "Against All Odds."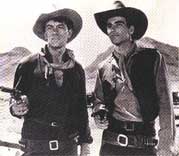 Great stories have a way of crossing over boundaries and genres and still effecting the audience; case in point, the many interpretations of Shakespeare's "Romeo and Juliet" or the fact that "Star Wars" is a Western set in space. "Red River" is really a westernized retelling of the literary and film classic "Mutiny on the Bounty". Scripted by Borden Chase and Charles Schnee from Chase's own "The Chisholm Trail". It begins in 1851, when two cowboys, played by John Wayne and Walter Brennan, head south leaving behind a wagon train filled with their friends and Wayne's love interest (Colleen Gray). The wagon train is ambushed by Indians and Gray is killed. Heartbroken by her death, Wayne throws himself into becoming successful at business and raising an orphan boy he's found. Fourteen years have now passed, and Wayne has amassed a huge herd of cattle that he needs to drive 1000 miles, over dangerous and rugged terrain or he'll go broke. So he, his old friend Walter Brennan, his now older son (played by Montgomery Cliff) and a band of hired hands set off on the journey. Along the trip, the men suffer from lack of water and food, the long hot days, Indians, and a stampede, and the morale of the group begins to decline. But Wayne pushes on becoming a tyrant (similar to the Bligh character) threatening whippings and hangings. The son (playing the Christian character) leads a mutiny and takes the herd on an alternate route. Wayne tries to hunt down the son and kill him, but is stopped by his son's new love interest (a miscast Joanne Dru) who Cliff has meet along the trail. This was Howard Hawks first, of many wonderful Westerns and shows an amazing authenticity. Russell Harlan filmed the beautiful black and white photography that gave a barren and oppressive feel to the western landscape. The idea of a cattle drive in a Western movie seems a little cliche, but this is the film that made that theme a stereotype.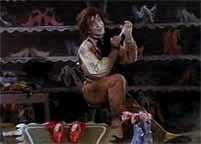 Taken from the Hans Christian Anderson tale of the same name, this is the first successful and possibly the best ballet movie ever made. A gifted young ballet dancer, (played by Moira Shearer in her first role) is torn between her career represented by her dance teacher (Anton Walbrook) and love represented by a composer (Marius Goring). The highlight of the movie is the 14-minute "Red Shoes Ballet" telling the Hans Christian Anderson tale as well as the dancers' own dilemma. Similar to the extended dance sequence in Gene Kelly's "An American in Paris", the artistry of the dancing, choreography, art production, costumes and technicolor are breathtaking. The movie is a cross between the typical backstage musical and highbrow art. It nicely blends fantasy with reality and contains the strong conflict of career versus marriage which many people, especially females, face. Won the Oscar for both Score and Art Production. Should have won for cinematography, but wasn't even nominated. The film was said to have inspired generations of young girls to begin dancing.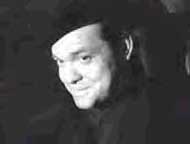 Graham Greene adapted this masterful thriller from his own novel and brought to the screen one of the classic film characters, Harry Lime. Joseph Cotton plays Holly Martins, an American who travels to Vienna shortly after WWII in search of his old friend Harry. He arrives and hears his friend is dead, only to later discover he's alive and involved in an illegal smuggling ring. Lime is played by Orson Welles, whose presence on the screen is so charismatic and overpowering it's hard to believe he only appears for a few minutes. All of his scene are classics. When we first see Welles, it's nighttime and he emerges from the darkness of a doorway only to give an evil little smirke and dissolves away again. Later Harry meets Martins up on the Giant Ferry Wheel and gives the infamous "Swiss Clock" speech, which Welles supposedly improvised, on the spot. The climax of the film is a classic chase sequence through the catacombs and sewer system underneath Vienna. Carol Reed directed using bizarre camera angles and a high contrast of lights and darks, while Anton Karas wrote the zither music which haunts the film. Appears on AFI's best film list at #57.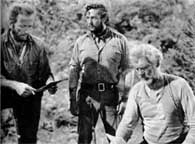 Humphrey Bogart gives one of the best performances of his career as the loser Fred C. Dobbs. He's a resident of a flophouse in Tampico, Mexico looking for handouts. He soon befriends Curtin, played by Tim Holt and an old prospector, Howard, played by Walter Huston in an Oscar winning performance. Dobbs decides to give up his lottery winnings when Howard tells he knows where to find gold in the hills of the Sierra Madre. On the journey, the three have their first encounter with the evil Mexican Bandit, Gold Hat, played by Alfonso Bedoya as one of the ultimate Hollywood villains. They escape and together find what they are looking for, Gold, and lots of it, but soon paranoia, and human nature begins to take over and it becomes difficult to trust anyone. Gold Hat returns and gives one of the classic cinematic lines, "We don't need no stinkin badges!" John Huston won Oscars for both directing and his screenplay adapted from a B. Traven novel. This is one of the best studies in greed ever filmed and appears on AFI's list of best films ever at #30.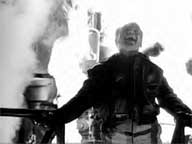 James Cagney had been away from the gangster films, the roles that made him famous, for over ten years. He returned in 1949 to play Cody, a violent criminal who had a strange obsession with his mother. This film was one of the major turning points from the gangster genre of the 30's to the themes of psychiatry that was becoming the hot topic of the 40's. This wasn't the criminal who was unemployed and broke from the great depression of the 30's. This was the crazed, psychotic killer. Margaret Wycherly, gave an outstanding performance as Cagney's amoral Ma. They say the apple doesn't fall far from the tree, and Ma was as crazy as her son. Ma was the only person who Cody would trust. In fact their relationship borders on fixation. Even to the point where Cody sits on his mother's lap. If it weren't for Cody's wife Verna, played by Virginia Mayo, you'd wonder what was really going on. When Verna betrays Cody to one of his gang members, it's Cagney's fiery performance and haunting look in his eyes that helps rank this as one of his best performance. The climax of the film is one of the classics of cinema, with Cody trapped on the top of a burning refinery, screaming "Made it, Ma, Top of the World", before a huge explosion leads to his end. When the movie was released it was considered excessively violent, but is quite tame by today's standards.





---


These are those special moments from the movies that once you see them you will never forget them. The rest of the movie might not stay with you, but these shots or sequences are now emblazed in your psyche. It may be a special effect, or an actor or actress, or the cinematography, but these are the moments that movies were made for!

Bing Goes the Bells Again (45): Bing Crosby reprises his role of Father O'Malley in "Bells of St. Mary's."

Ships Ahoy, Mousey! (45): In one of the first uses of animation combined with live action, Gene Kelly dances it up with Jerry the mouse in "Anchors Aweigh."

Never Go Hitchhiking (45): Tom Neal is a hitchhiker who takes a "Detour" into this classic film noir.

Working Your Way Up the Ladder (45): Joan Crawford gives one of her best performances in the classic Film Noir "Mildred Pierce."

You've Never Looked So Lovely (45): Oscar Wilde's classic gothic story "The Picture of Dorian Gray" tells of a young man who stays forever youthful as his picture grows more grotesque.

Casting A Spell (45): The combination of Surrealist painter, Salvador Dali with Alfred Hitchcock is completely "Spellbound."

"Zip-A-Dee-Doo-Da" (46): The uplifting song from Disney's "Song of the South."

Will Someone Please Answer the Door (46): Sexiness comes a calling in the classic Film Noir "The Postman Always Rings Twice."

Don't Answer the Door (46): Burt Lancaster in the classic Film Noir "The Killer."

"Put the Blame On Mame, Boys" (46): Rita Hayworth shines like few others on the screen as "Gilda."

A Change of Face (47): Bogart is unjustly accused of killing his wife and has plastic surgery to change his appearance. He soon meets Lauren Bacall down a "Dark Passage."

Walking In Someone Else's Shoes (47): Gregory Peck pretends to be Jewish to uncover the anti-Semitism in his business and social circles of a "Gentleman's Agreement."

There Really Is A Santa Claus (47): Edmund Gwenn shines as Kris Kringle in the Holiday classic "Miracle on 34th Street".

"To Be Or Not..." (48): Laurence Olivier brings one of the best adaptions of Shakespeare's "Hamlet" to the screen. Could easily appear on the above list!

Could I Have Some More Please? (48): David Lean films a wonderful adaptation of Dickens "Oliver Twist".

I Think I'm Going Crazy (48): "The Snake Pit" was one of the first films to deal realistically with mental problems.

A Husband and Wife Battle It Out (48): Rita Hayworth and husband, Orson Welles meet "The Lady From Shanghai".

Do I Know You? (48): A man tries to pick up the woman who's already bore him a son in "Letters From an Unknown Woman."

Poor Humpty Dumpty (49): "All the King's Men" gives a detailed account of corruption in modern day politics.

King Kong Has A Little Baby (49): Stop motion animation gives us "Mighty Joe Young."

Is It War Time? (49): Gregory Peck shows the importance of leadership in the WWII film "Twelve O'clock High."

---