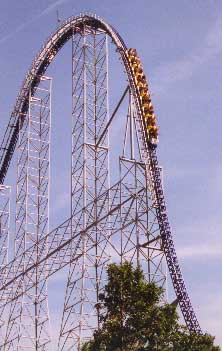 Parks and the New Millenium
If you love rollercoasters and are always looking for the best ride, then the new millenium is for you. Cedar Point has been the ultimate destination for rollercoasters for a few decades now. Boasting an impressive 14 coasters of every size, type, and shape. Included in this collection is what I considered the best coaster for quite some time, the "Magnum 200". But there is now a new champion. The park has outdone itself with their 15th coaster, pushing the limits beyond where I thought they could go. The new rollercoaster, named the "Millenium Force" breaks 10 world records, including the first to break the 300 foot barrier and the steepest first drop at 80 degrees. Think about it, 90 degress is straight up and down! The ride hits speeds of 93 miles an hour. The height, speed and steep turns become even more impressive when you realise it is only a lap bar that holds you in place. An amazing ride! If you are interested in getting to Cedar Point for the ultimate coaster ride, be forewarned. Since this is a new ride, opening in May of 2000, there is a HUGE wait for the Millenium. The park has tried to solve this problem by handing out timed tickets in which you can enter the line, which than still takes an hour and a half to reach the cars. But even these timed tickets seem to go quickly. The best thing to do is to get to the park early in the morning and rush to the front of the coaster entrance to receive your timed ticket. Make sure your in the correct line! Then enjoy the rest of the park until your time arrives.

LINKS
Official Amusement Park Home Pages
Busch Gardens:. The site for Busch Gardens 2 main parks in Williamsburg and Tampa Bay.
Cedar Point: This classic amusement park located in Sandusky, Ohio, right on Lake Erie is rollercoaster heaven. Boosting the most rollercoasters (15) and rides in one place.
Coney Island: A smaller site for finding tourist information on New York City's historic pleasure grounds.
Disneyland:. Walt Disney's first theme park in California.
Kennywood: Voted as the best traditional park. Located outside of Pittsburg, this classic park contains some great rollercoasters including the "Steel Phantom", "Thunderbolt", "Jack Rabbit" and a dueling coaster.
Knott's Berry Farm: What started as a fruit farm has turned into one of the great amusement parks in the country..
Six Flags: Six Flags has lots of parks around the country. This is more or less their central site for finding any of their parks.
Universal Studios Florida. Universal's competition for Disney's Juggernaut in Orlando. Now with 2 parks, Universal Studios & the Great Escape.
Walt Disney World: Walt Disney's theme park mecca in Orlando, Florida. Including the Magic Kingdom, EPCOT, MGM/Disney Studios, the Animal Kingdom, Pleasure Island and more!

Park Organizations and Pulications
NAPHA: The National Amusement Park Historical Association Organization dealing with lost rides and parks as well as what's new in the industry.
At the Park magazine
Theme Park Adventure Magazine:

---